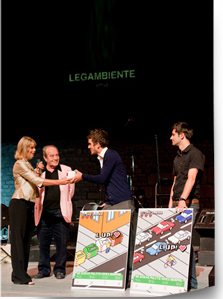 "EVERY GESTURE COUNTS"
SOCIALLY CORRECT COMPETITION 2010
Sustainable development and environmental impact was the theme of the 2010 Socially Correct competition entitled "Every Gesture Counts". The competition, which received the patronage of the Ministry of the Environment, invited participants to create a social campaign for Legambiente – the Environment League – to increase a civic sense of responsibility and respect towards the environment.
The target of the campaign  was to  invite each one of us to acquire a different attitude and adopt a new lifestyle for the protection of our environment, our cities, the people who live in them and our families, because indifference is no longer sustainable.
Small daily gestures that each one of us can put into practice, such as a more responsible use of water, reducing energy use, sorting our waste, consuming less and buying products with a lower environmental impact, avoiding using a car or scooter for the short trips, do not impact our daily lives and yet have major consequences for our planet.
The winning campaign was created by JAMES DOMINIQUE BARRANGER, Art Director and GIULIO FRITTAION, Copywriter, students of the " Accademia delle Arti e Nuove Tecnologie" Rome, under the supervision of Valerio Tozzi –  Professor of Art Direction and Marketing.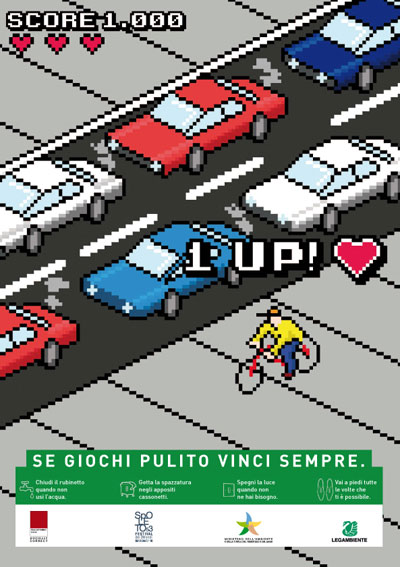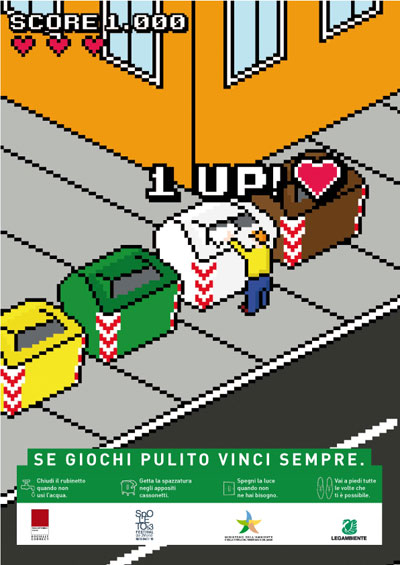 Using the "video game" concept, the two versions of the campaign entitled "If you play clean you will always win", describe small daily gestures i.e. using a bicycle rather than the car or putting waste in the recycling bin, that get you points to achieve "higher level".  The campaign will be produced in print, web and TV formats.
The winners of the competition have been awarded a six-months' internship in the role of Art Director and Copywriter, in the creative department of the Saatchi & Saatchi advertising agency.
Read the winners' impressions..