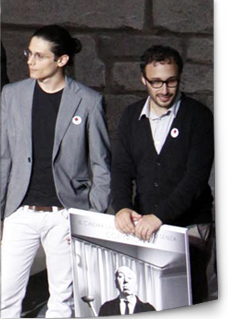 "COPYRIGHT IS A RIGHT"
SOCIALLY CORRECT COMPETITION 2009
The participants of the 2009 Socially Correct competition were invited to create a social campaign on a highly topical theme: copyright.
The objective of the competition, carried out in collaboration with the Spoleto Festival of the Two Worlds, and with the patronage of the Ministry of Cultural Heritage and the Italian Copyright Association, was to create a social campaign to increase public awareness, especially that of the younger generation, on the necessity to protect the "originality" of a work of art and preserve copyright – an issue of ever increasing importance also in the light of the development of an internet society.
The winning campaign was created by the "creative couple" FEDERICO CAPELLI, Art Director and TOMMASO ZAGO, Copywriter, students of the " Carlo Bo" University of Urbino, under the supervision of Prof. Fabio Ritter.
The concept of their campaign "How would the world be without copyright?" is that a world without copyright would be one where artists would not be able to support themselves and therefore be forced to do other types of work. Mankind would have never known the works of art of many artists if they had not had the resources to enable them to dedicate their lives to art.
The title of the campaign "Would cinema be same without copyright?" depicts Alfred Hitchcock as a plumber. Conceived with irony, alluding to the work of art that made the person famous, one is invited to think about how different Hitchcock's life would have been if he had been a plumber and consequently we would never have been able to see "Psycho".
The winners of the competition have been awarded a six-months' internship in the role of Art Director e Copywriter, in the creative department of the Milan office of the Saatchi & Saatchi advertising agency.