//$a = get_image('page_image_sx'); //echo "a= ".$a; ?>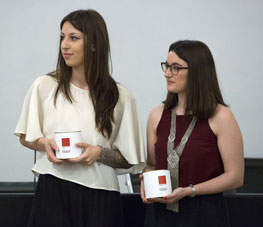 SOCIALLY CORRECT COMPETITION 2016: "DIFFERENT BUT EUQAL"
For the 9th edition of the Socially Correct competition, under the patronage of the Presidenza del Consiglio dei Ministri – Dipartimento per le Pari Opportunità, participants were requested to create a social campaign for the elimination of stereotypes and gender differences.
The objective of the campaign was to create public awareness of the necessity to combat stereotypes and prejudice linked to gender identity, starting from the new generations, fundamental to combat every form of violence based on socio-cultural models of men and women: we must give value to equality to attain acceptance of differences. Men and women are different, but equal in their roles, desires and opportunities. The sole objective is personal development.
The winning campaign created by Giulia Premi (Art Director) and Giorgia Tronconi (Copywriter), students of the Nuova Accademia di Belli Arti (NABA) of Milan is based on the concept that many of our decisions are not derived from a dream, but dictated from stereotypes. The message of the campaign "Dreams do not have gender" is "the possibility to dream beyond stereotypes creates men and women free to be what they really desire; in a world where dreams do not have a gender, opportunity is for all".