2019 COMPETITION – "GAMBLING DISORDER. WHEN LIFE IS AT STAKE"
For the 12th edition of the competition, the association collaborated with the Direzione Comunicazione e Rapporti Europei ed Internazionali, Direzione Comunicazione, of the Ministry of Health on a theme of great importance: gambling disorder – a phenomenon that is increasing also via internet.
The objective of the competition was the creation of a social awareness and prevention campaign aiming to increase the perception of the risks connected to gambling, that can become a pathological condition that renders one incapable of resisting the impulse to gamble or bet, with repercussions on social and family life.
The winning campaign entitled "Gambling can erase everything you love", was created by the creative couple Alessandro Bongermino, Art Director and Chiara Fasolino, Copywriter, students of the University of Urbino "Carlo Bo" under the guidance of their tutor Marco Livi (Copywriter), Faculty member for Creative Advertising, degree in "Communications and Advertising for Organisations".
Their campaign that many can identify with, in different forms, is based on the concept that gambling can lead to the self-exclusion of relationships with loved ones.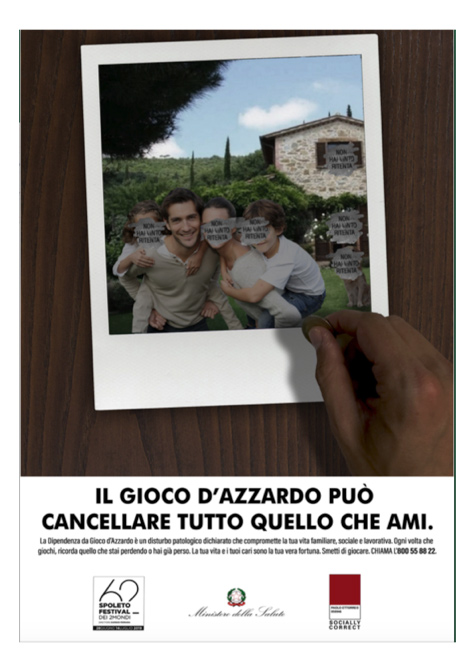 © Fondazione Festival dei Due Mondi Onlus,foto di Maria Laura Antonelli/AGF