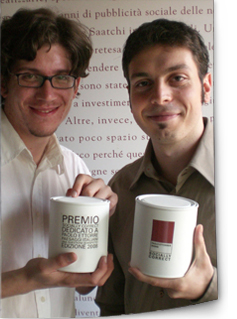 The 2008 Socially Correct Competition
The competition on the theme "The Italian Landscape: a question of respect" was launched on 18th September 2008, in memory of Saatchi's Chief Executive Office Paolo Ettorre. The dual objective was to create a public awareness campaign for greater respect of our territory, denouncing unauthorized building and the turning of the countryside into a cement jungle, but also to reward Italian creative excellence, identifying young talent with the potential to become good advertising managers, sensitive to social matters.
A panel of judges from the Department of Contemporary Architecture and Art of the Ministry of Cultural Heritage and the Creative Directors of Saatchi and Saatchi, chose the award winning creative couple, of the Socially Correct Competition.
Amongst the numerous creative proposals received from Italian schools and universities of communication, the creative work of two young students from Milan university, enrolled in the Faculty of Humanities and Communication: Jacopo Colò – art director and Mirko Cetrangolo – copywriter, under the supervision of Prof. Andrea Pinotti, was chosen. The two students won a six-month internship in Saatchi & Saatchi's Creative Department.
One thing is certain: Paolo Ettorre would have loved the campaign based on its ability to synthesize such a serious social phenomenon, without being dramatic. Colò and Cetrangolo's proposal is based on the assumption that unauthorised building is an activity that is as easy "as if it were a game". The visual and conceptual metaphor they used was the game of Monopoli where anything goes in order to win and get rich.
The television spot shows several untouched Italian landscapes where a big hand suddenly appears violently placing enormous aberrant constructions that completely destroy the surrounding environment. At the end the constructions are none other than Monopoly buildings placed by two children playing Monopoly. The campaign's headline is . "Unauthorised building – a game where we all loose". The print ad, on the other hand, shows the Italian peninsular completely covered with buildings. The campaign also has a radio and internet version.
The project had the patronage of the Italian Government – Dipartimento per l'informazione e l'editoria della Presidenza del Consiglio dei Ministri, il Ministero delle Comunicazioni, e il Ministero delle Politiche giovanili e delle attivitĂ  sportive.