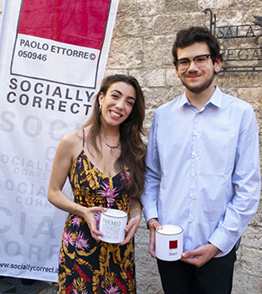 2018 COMPETITION – "CYBERBULLYING: VICTIMS NEVER AGAIN"
For the 11th edition of the competition, the association collaborated with Direzione Generale per lo Studente, l'Integrazione e la Partecipazione del Ministero dell'Istruzione, dell'Università e della Ricerca on a theme of great importance: cyberbullying.
 The objective of the competition was the creation of a social awareness and prevention campaign aiming to reduce the 22,3% of Italian youths vicitms of on-line bullying, making it understood that "being strong with the weak is being the ultimate coward".
 The competition was won by the creative couple Giacomo Fagandini, Art Director and Diletta Fachechi, Copywriter, students of the Nuova Accademia di Belli Arti  (NABA) Milan, under the guidance of Piero Bagolino, professor of Art Direction and Audiovisual Language and Techniques.
 Their campaign entitled "Cyberbullismo: Vincilo giocando", addresses one of today's dramas in a positive way, inviting vicitims of cyberbullying to help themselves with an App – an idea that utilizes the same technology responsible for the diffusion of the phenomenon.